So, you are planning a trip down under, right? And, with the overwhelming options that you have on your hands, you feel a little confused, no?
Well, don't worry.
If you're considering a quick getaway from your bustling daily life, I'd suggest you go to the capital city of Australia, Canberra. Keep reading to know more about it.
Why Should You Visit Canberra?
Canberra, in essence, is a living canvas of Australian history and culture.
For example, it houses the Parliament House and Australian War Memorial, where the very essence of the nation is etched into every wall and courtyard. However, the historical places aren't the only reason why I'm asking you to visit Canberra.
Apart from this, the weather of the city is quite alluring as well. Well, it rains every once in a while, but even that looks quite amazing if you're traveling to the countryside.
Besides, traversing around the city is pretty easy too.
All you need to do is hire a taxi Canberra, and they will take you wherever you want to go. I would say that they also work as a tour guide if you ask the right questions.
So, Where Should You Go in Canberra?
Honestly, there are a plethora of places in Canberra that you need to visit as a first-time goer. However, if you have a job, I'm sure you won't be able to get more than a week.
So, in this section, I have shared ten locations that will be perfect to enjoy the essence of the city properly. Let's begin, then.
1. Australian War Memorial: Where History Breathes
So, you must always start your journey at the heart of the nation – the grand Australian War Memorial. It's more than just a museum; it's a poignant tribute to those who gave their all for this great land. And, there's a lot more to do here than you can imagine too.
For example, the hallowed halls of the place showcase the ethos of war Australia has seen over the years. There are a lot of stories to tell and listen to here as well.
And if you're going there for the very first time, don't forget to witness the eternal flame. It's a symbol of remembrance and respect. Oh, and before I forget – DON'T forget to catch the moving Last Post Ceremony at sunset!
2. Parliament House: Democracy Unfolded
Once you are done with the ornate history of Australia, the next thing you need to explore is the curious essence of Australian politics.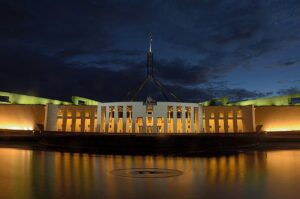 And, there's no better way of doing it other than visiting The Parliament House – the nucleus of the Australian government. An architectural marvel, the humongous building cordially invites you to delve into the workings of democracy and find out more about the culture.
If you want, you can also take a guided tour to uncover the stories behind the chambers, the art, and the impressive views from the roof. Don't miss the chance to stand on the forecourt, an area accessible to all, and soak in the grandeur of the building.
3. National Gallery of Australia: Art for Every Soul
Now, let's move on to the artistic persona of the nation, and most importantly – of Canberra.
The National Gallery of Australia is a treasure trove of creativity from across the globe. From Aboriginal and Torres Strait Islander art to European masterpieces, this gallery houses a diverse collection that will leave you awe-inspired.
Also, if you are planning the trip ahead, keep an eye out for special exhibitions and events in this place. These often showcase cutting-edge contemporary art made by Australian artists.
4. Lake Burley Griffin: Tranquility Amidst Urbanity
Once you're done with hustling within the center of the city, I think you would be looking to take a breather. Well, I have just the place for you to do it too – Lake Burley Griffin.
Whether you're cycling, jogging, or just strolling, the lake's tranquil waters and scenic surroundings provide a perfect escape from the city buzz.
You can also hire a kayak or a paddleboard for a more immersive experience. Pack a picnic, sit by the shore, and let time slow down here, whenever you feel the need of it.
5. Australian National Botanic Gardens: Nature's Symphony
If you're a fan of flora, the Australian National Botanic Gardens is a must-visit. Spanning over 90 acres, it's a haven for native Australian plants.
If you want, you can also stroll through themed gardens, learn about the unique flora. And if you're lucky, you may catch a glimpse of some of the local wildlife as well.
The gardens also host workshops and events that cater to all ages and interests. However, it's usually done during the summer period, so make sure to plan accordingly.
6. Mount Ainslie: A Panoramic Perspective
For a breathtaking view of the city, head over to Mount Ainslie. A relatively short hike leads you to a lookout that offers a sweeping vista of Canberra and its surroundings.
Whether you're there at sunrise, sunset, or under the shimmering stars, the view is bound to leave you spellbound. It's the perfect spot for photographers and nature lovers alike.
7. Pialligo Estate: Culinary Delights
After all that exploring, it's time to treat your taste buds. Pialligo Estate offers a dining experience that's nothing short of exceptional.
Set in a picturesque estate, this restaurant serves up a delectable array of dishes using locally sourced produce. Yes, the price is a little more expensive, but it's worth it.
From garden-fresh salads to succulent and lip-smacking meats, every bite is a celebration of Australian flavors. So, if you are visiting Canberra for the first time, it's a must-go for you.
Bonus. Tidbinbilla Nature Reserve: Wildlife Wonderland
Round off your Canberra adventure with a visit to Tidbinbilla Nature Reserve.
Just a short drive from the city, this beautiful reserve offers a chance to encounter Australia's unique wildlife in its natural habitat.
Kangaroos, wallabies, and an array of bird species call this place home. Take a walk on the numerous trails or join a guided tour for a deeper understanding of the local ecosystem.
Visit Canberra Today!
Whether you're a history buff, an art lover, a nature enthusiast, or just someone looking for a good time, this city has something for everyone. So, plan properly, pack your bags, put on your walking shoes, and get ready to uncover the treasures of the Australian capital.