Dunk Island
»» Click here for information about the Resort
Dunk Island is one of those unique places that everyone wants to holiday at before they die. You might say it should be on your bucket list if you havn't already been there. If you have you will no doubt be delighted to return. Dunk is a continental island lying just off the coast near Mission Beach in Tropical North Queensland. In can be accessed direct by air from Cairns as the island has its own airport or you can arrive in style on the ferry from Mission Beach. The island itself is large by local standards and has lots of facilities to entertain you during your stay. It is one of the few island resorts where you can play golf. There is an 18 hole course that is quite interesting and although it is not competition standard it is still great fun to play. Bushwalking is also really popular and there are some really beautiful walks to be enjoyed.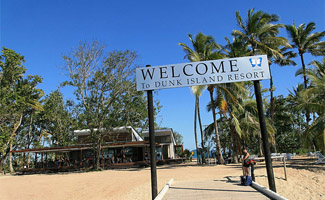 Watersports are really well catered for. Try the jetskis for a little adventure or learn to sail on a windsurfer. Snorkeling and diving is really popular and the swimming pools and beaches provide great swimming facilities. Dunk is very popular for a family holiday as there is something for every member of the family. There is also a beautiful and relaxing day spa which needs to be booked ahead as it is so popular and relaxing. There is also tennis and squash for the energetic so really, there is always something to occupy your time.
The accommodation and facilities on Dunk Island are really excellent. The Island recently underwent a complete rebuild after being almost totally destroyed during cyclone Larry in 2006 and after being restored, was destroyed again by cyclone Yasi in 2011. Rebuiding is again under way and the resort is due to reopen in April 2012. There is a wide range of room types on offer and they will cater perfectly for either a couple or a family. The main restaurant is located right on the beachfront and also overlooks the main swimming pool area so mum and dad can relax with a coffee or a cold drink while still supervising the kids as the enjoy the pool.
Dunk Island is one of the most popular resort destinations in Queensland so it is wise to book early. Don't hesitate to call us if you want a little help to plan your holiday on Dunk Island.